General about Beach volleyball camp
On the second weekend in June 2022 (11.06.-12.06.) we organize a weekend camp for beach volleyball at the Baltic Sea in Flensburg/Wassersleben. The camp will take place on Saturday and Sunday directly at the beach in Wasserleben. We will train 2 small groups intensively. There will be 2 sessions per day per group. All training sessions will have a clear focus on certain game elements, so that almost the entire portfolio of game elements will be trained (receiving, serving, passing, attacking, tactics, etc.). Our coach Vadimas Nikiforovas is an ex-professional player with international playing experience and now has more than 10 years of experience as a professional beach volleyball coach in Berlin.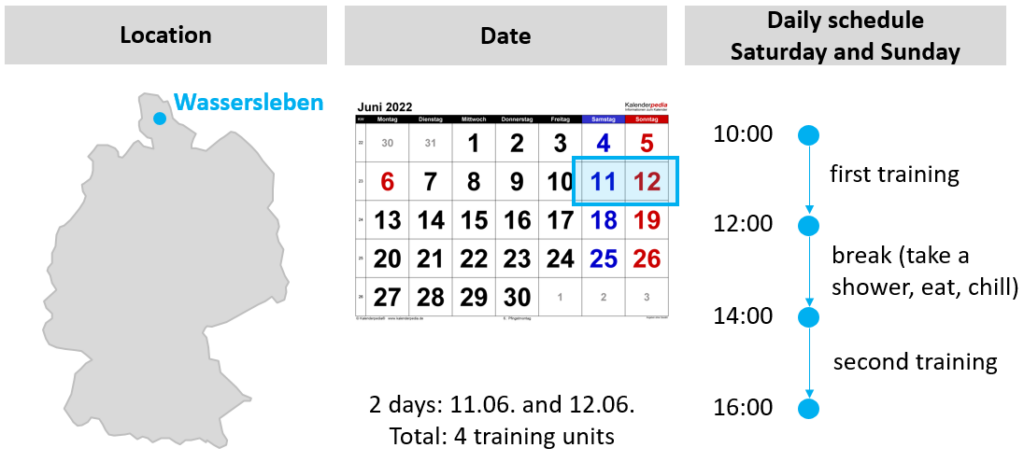 Beach volleyball camp training levels
Our beach volleyball training in Flensburg/Wassersleben has a strong focus on 4 elements. We live them and follow them in every training: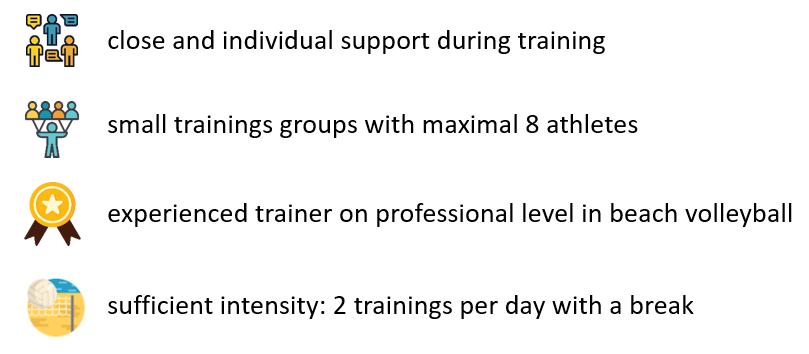 Each player is individual and has his own strengths, experience, psychological way of thinking, etc., so we put great attention to the individuality of training and follow the progress of each athlete. Thereby we give understandable hints for improvement. It is no beneficial for you and us to be too theoretical here, the suggestions have to be practicable and realizable for you. We support the implementation of the suggestions in small groups with a maximum of 8 players. We do not believe in mass beach volleyball. You will always have a trainer ready to talk to you. Our coaches have experience with volleyball as a competitive sport and played high-level competitions themselves. We do not have unexperienced coaches.
This camp will train players with the F1/F2 level.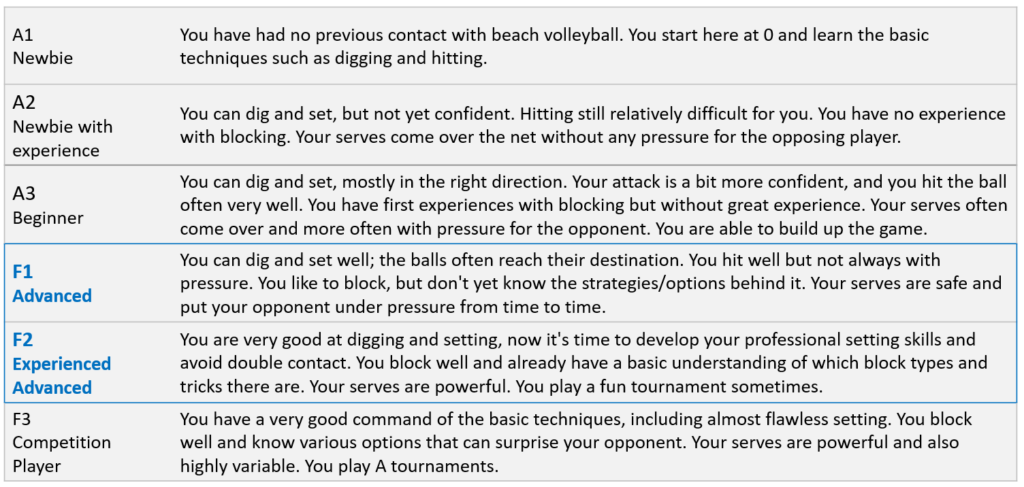 Structure of beach volleyball training with us
To achieve high intensity and more individuality, we train with a maximum of 8 participants. Each beach volleyball training sessions will have a clear structure, the focus is on athletics and technique of each player.

Beach volleyball training location in Wassersleben / Flensburg and languages
The beach volleyball camp will take place in Wassersleben. Wassersleben is located directly on a long and beautiful sandy beach. It has a great connection to Flensburg (e.g. bus 15 minutes or 10 minutes by car). Flensburg as a student city, on the other hand, offers many options for an overnight stay, good food (e.g. fish rolls at the harbor) or nightlife. Flensburg is also cool to just relax after a beach camp through the hidden alleys of the city. Below you can find some pictures from the last camp in Flensburg and from the beach itself.
At Booking.com you can find many vacation rentals in Flensburg with a price of less than 200€ for 3 nights. The overnight stays or the journey to Wassersleben must be organized by yourself. But we are happy to help you e.g. to organize joint trips or to book a vacation apartment together.
Course fees, balls and coach are included in the prices.

We speak your language: German and English.
Training packages / cost
We offer you full flexibility. You can book the camp 1 week before the start (booking deadline 04.06.2022), after that the booking window will be closed. But be aware, there are only 8 places per training group. After booking you will receive all further information directly from our trainer via email. Additionally we organize a Whatsapp group shortly before the camp. You can always cancel the camp 7 days before the date free of charge, just write us an email here. If you exceed the 7 days deadline, the booking is binding, because we also need fair planning security.
The whole camp will cost you 119 €, you will train 2 times per day, so 4 training sessions in total.

Beach volleyball camp: your trainer
Vadimas Nikiforovas – Headcoach im Camp.
Vadimas is Lithuanian champion in beach volleyball and indoor volleyball. In Germany he has played several years in the second national league and won several A and A+ (high class) tournaments.
For over 10 years Vadimas has been giving professional beach volleyball training in Berlin and working as a coach for the Humboldt University courses.
He is an absolute professional who recognizes the players' weak points very quickly and immediately applies tools to close and improve these weak points. At the same time, he knows how to design the training so that the fun factor is not neglected.
Roman Bobryshev – Coach.
Roman's heart always beat for volleyball.
At the age of 14, he played in the junior squad of the national youth team under the Russian flag. Later on, he played for various teams in Germany, such as Eintracht Frankfurt in the 3rd Bundesliga.
Currently Roman plays various beach volleyball tournaments of the series A++, A+ and A and gives parallel many training sessions in Berlin.
Camp Impressions