General information about beach volleyball camp
This September weekend (09.09.-10.09.) experience intense beach volleyball training in the heart of Berlin. Our weekend camp at the famous Beach Mitte offers individually tailored training in two small groups. With two sessions each day, we cover all essential game techniques.
Our coach, former professional player Vadimas Nikiforovas, brings over a decade of experience as a professional beach volleyball coach in Berlin. Join us for comprehensive beach volleyball training in Berlin.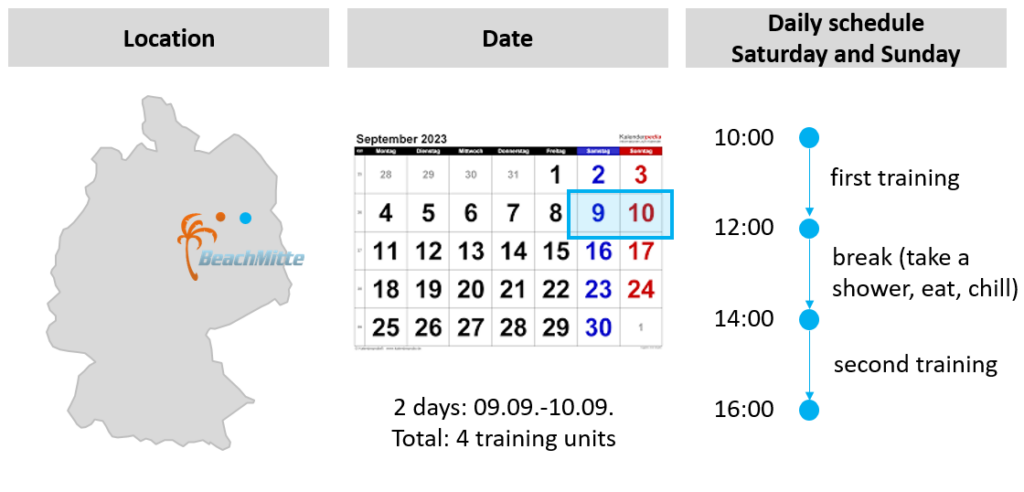 Beach volleyball camp training levels
Our beach volleyball training in Berlin has a strong focus on 4 elements. We live them and follow them in every training:

Every athlete is unique, with individual strengths, experiences, and approaches to the game. That's why we place a high value on personalized training that addresses each player's specific needs. Our goal is to provide tangible, actionable suggestions for improvement that you can implement immediately.
In our small training groups of no more than 8 players, you'll always have access to experienced coaches who have played at a high level themselves. We believe in quality over quantity, so we reject mass training and instead focus on intensive, personal attention.
Our upcoming beach volleyball camp in Berlin is specifically aimed at players with a performance level of A2/A3.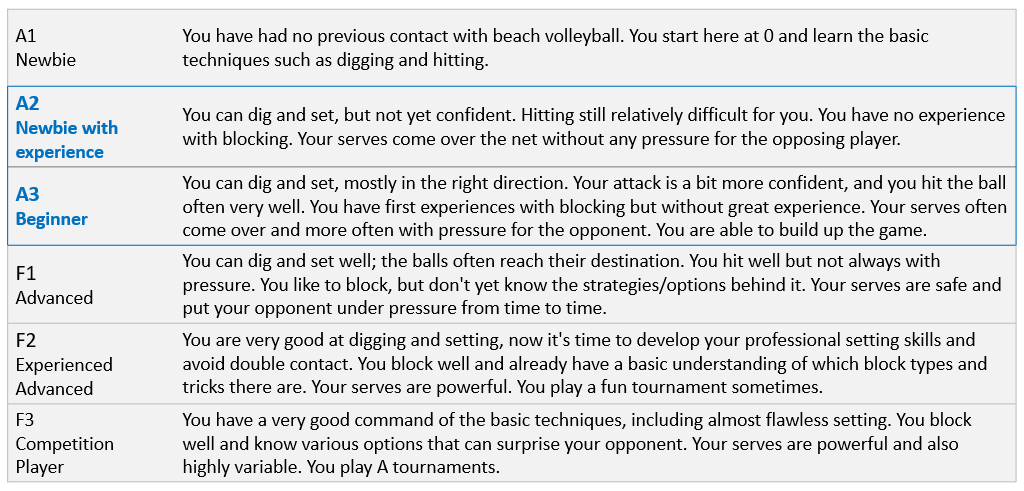 Training structure
To achieve high intensity and more individuality, we train with a maximum of 8 participants. Each beach volleyball training sessions will have a clear structure, the focus is on athletics and technique of each player.

Beach volleyball training location in Berlin & Languages

The Beach Volleyball Camp will take place indoor in Beach Mitte in Caroline-Michaelis-Straße 8, 10115 Berlin. The camp will be OUTDOOR. The court fees, balls and the coach are included in the prices.

We speak your language: German, English.
Trainings packages / Cost
Enjoy the flexibility that our beach volleyball camp in Berlin offers: Book up until 3 days before the start (last chance on 07.06.2023), but keep in mind that we only offer eight spots per group. After booking, we'll send all the necessary information via email. There's also a WhatsApp group for last-minute updates.
For any changes, you can cancel free of charge up to seven days before the camp. After this, the booking becomes binding.
For 119 €, expect a weekend full of fun, new acquaintances, and 4 intensive beach volleyball training sessions.

Beach volleyball training in Berlin: expected coach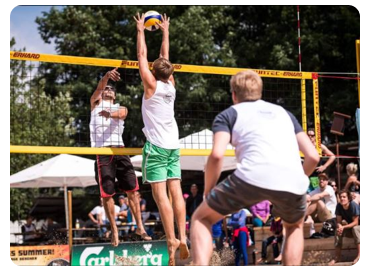 Vadimas Nikiforovas – your experienced coach
Our head coach, Vadimas, isn't just a Lithuanian beach volleyball and indoor volleyball champion—he also has a successful career in Germany's second Bundesliga, as well as multiple victories at A and A+ beach volleyball tournaments under his belt.
With over a decade of experience in professional beach volleyball training in Berlin, including courses at Humboldt University, Vadimas masterfully enhances each player's skills. His keen eye for detail allows him to quickly spot weaknesses and apply suitable methods for improvement.
But training with Vadimas goes beyond mere technique: he creates an atmosphere that's both challenging and entertaining, ensuring that the fun of beach volleyball always takes center stage.
Some camp / training impressions